Middle School Matters is hosting a fun linky party
that highlights some of your favorite things that you've found/used/created and used in your classroom. It sounded like fun, so I wanted to participate.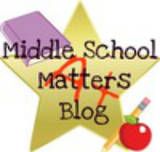 I've thought about it and there are a lot of awesome things I use, but my favorite tool I'm using right now is the program called Edmodo. I know I mentioned on my blog before and even wrote about how fabulous it is over at Technology Tailgate, but I think it's important enough to mention again.
What I love about Emodo is that you can have your students interact in your classroom with such ease and efficiency You know those times where you might read an article and you just want a few sentences summarizing the article or just their thoughts? Edmodo works perfectly for that, you can have each student post a reply of their thoughts. No paper, pencils or problems required!
Another favorite of mine is the
CNN Student News
. I love that it's an engaging, quick (9 minute) look at the daily news in a format my students can understand. It's updated everyday at 4am Eastern, so there's never any problem about "Old News" being shown. My students are enjoying it as part of their Daily Warm Ups.