Sorry I haven't been posting too much guys! I've been busy busy busy back at work getting my new classroom ready for the first day of school - which is
MONDAY
! EEeeeekekekkkk!
Plus, I have lots of ideas in my head about doing a "Show off Your Class" linky... I have to remember to tuck my camera into my bag for Monday and get the ball rolling. I just want to peek into everyone's room when the school year starts and I think this linky will do the trick.
I also can't believe that it's August 4th... and already 200+ people are linked up at
Farley's linky party
. Sheesh! You guys are on the ball!
Thank you Farley for hosting!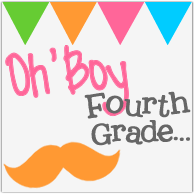 I should be posting again soon.... Hopefully, tomorrow or Monday... maybe even Tuesday!